Frida Kahlo's great lost paiting "The Wounded Table" appears and goes on sale
RIBEIRA / LA VOZ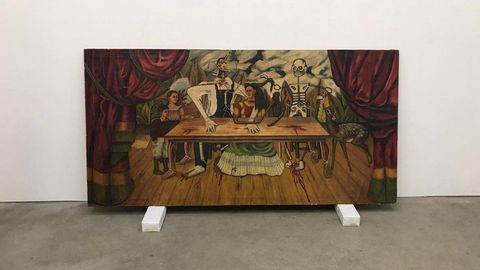 It had been missing since 1955. A Galician art dealer from Rianxo has put it up for sale
15 jun 2020 . Actualizado a las 13:07 h.
"The Wounded Table" is considered the main work of the Mexican painter Frida Kahlo and the greatest exponent of surrealism. In addition to both considerations, the author's tribulations also converge in the interest of the painting, which can be deduced in the content; the reason for its elaboration, to donate it to a Soviet Union that rejected it for considering it "bourgeois, formalist and decadent"; and the mystery of her disappearance, in 1955, in Warsaw. 
It is reported that Kahlo herself lived with bitterness the loss and that Mexico tried by all means to locate the painting with the intention of returning it to the national heritage, but nothing was known about it until now that a Galician art dealer, specifically from the Rianxo municipality, has put it up for sale according to the interest of its owner, a Mexican settled in Europe. 
Cristian López Márquez is that person who claims to have ended 65 years of mystery. With two other Mexican partners, he is the owner of  the company The Billion Art, dedicated to the sale and purchase of works of art. He explains that, for the six and a half decades without knowing anything of what is considered the masterpiece of surrealism, it passed through two important private collections before reaching the hands of the current property.